WATERJET - glass cutting by means of a very high-pressure jet of water
The technology of cutting by a water jet under a high pressure is a modern and universal method of treatment of most materials, in that also the glass. In consists in generating the concentrated energy of a water jet under a high pressure (max. 3800 bar) together with an abrasive material. This method is characterised by a lack of the thermal, mechanical and chemical loads of the treated material. The cutting is smooth and its accuracy reaches +/- 0.1 mm.
Advantages of the WATERJET cutting:
high quality of cut edge, (in many cases there is no need to provide further finishing treatment),
a possibility of cutting out the holes of any shape,
a minimum diameter of the cut hole is of 3 mm,
natural materials are used for the treatment,
the method is environmentally friendly,
the method is cheap and flexible,
it allows for optimising a use of the material.
A scope of the glass thickness
[mm]
Minimum dimensions of the glass
[mm]
Maximum dimensions of the glass
[mm]
2 - 12
200 × 550
2696 × 4996
Grinding the glass edges:
a possiblity to provide a treatment of the glass edges: grinding and polishing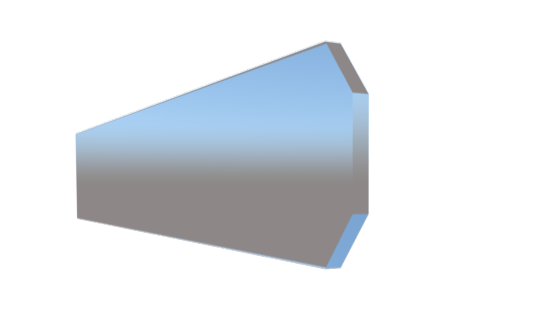 trapezoidal cut of the glass - (stright with the slightly chamfered edges)